See what readers say about my work.
I pride myself on keeping my audience happy. With over 100 reviews and 5-star ratings, discover why readers from around the world recommend my books. Don't just take my word for it, read the reviews!
Beautiful story

A House in Hana • 5 out of 5 stars

I could feel the sun on my face, the sand between my toes and the salt air blowing through my hair. I could feel the anxiety of driving the hairpin turns on the road to Hana. I could smell the plumeria and cattleyas. Birgitt has taken me on a beautiful journey through Hawaii. Lani's journey was just as beautiful, a poignant tale of family secrets, misunderstandings and what can happen when love wins. I can't wait to see what happens next for Lani, Max and the Basset Hounds! Aloha!
Fantastic read

Back in Hana • 5 out of 5 stars

Loved it. A beautiful story set in the one of the most beautiful places in the world. A great sequel.
A great trip back to the Islands.

Back in Hana • 5 out of 5 stars

So happy to read the second part of a wonderful trip begun in A House in Hana and find out what happens to Lani. I thoroughly enjoyed the story and a wonderful surprise awaits. Great travel information through Maui, the Big Island of Hawaii, Oahu, and upstate New York. Mahalo to Birgitt Van Wormer for a satisfying read and hopefully more to come.
Always enjoy books that take place in Hawaii and recommend these two novels by Birgitt Van Wormer. They are written about a Hapa Haole girl who was adopted and grew up in the Hudson River Valley in New York. She receives a letter from a lawyer and finds out she has inherited a house in Hana, Maui and discovers more about her Hawaiian birth mother and the tragedy about her and her birth father. She has inherited a love of orchids as well. Lovely journey through the Islands as she unravels the mystery of her 'Ohana.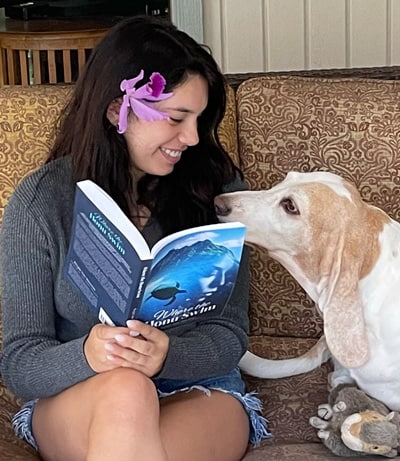 Great detective mystery and romance!

Forever Hana • 5 out of 5 stars

I thoroughly enjoyed this third installment of the Hana series, with some new interesting characters. Beautiful scenery and settings plus the family interactions with little Kai a star in this story. Loved how the writer wove the mystery of the missing paintings with family drama and romances. Highly enjoyable and made me feel as if I were on Maui, and I didn't want it to end!
Beautiful story telling. A must read!

Forever Hana • 5 out of 5 stars

I truly enjoyed this third book of the "Hana" trilogy. From the introduction of new characters to how the mystery is woven into the story. This author does an amazing job with each characters storyline, you feel as if you were part of Hana. If you want to be transported to Maui, this is a must read, along with the previous two books.
Newsletter Sign Up
Receive the latest updates and excerpts on my series of new Cozy Mysteries!