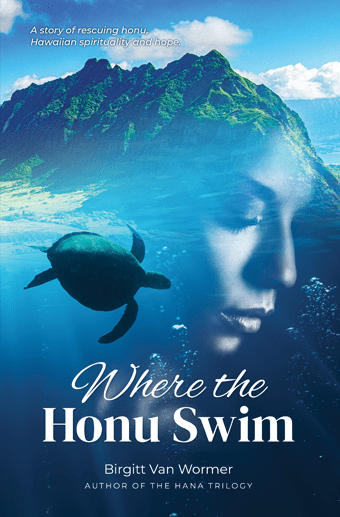 Where the Honu Swim
Join Sienna Brantley and Mark Baldwin on a whirlwind adventure on the tropical island of Maui – a story of rescuing honu, Hawaiian spirituality and hope.
After leaving her job in a fast-paced Boston law firm, Sienna Brantley returned to a tranquil life in the Florida Keys. She is living in her childhood cottage behind the Turtle Sanctuary with Mark Baldwin and their patchwork family.
Mark, a world-renowned veterinarian in his field, is called to assist his friends and colleagues at the Maui Turtle Rescue and teach them a new minimally invasive surgery technique on sea turtles. Sienna travels to Maui to join Mark for a week, but her idyllic vacation is soon derailed. Mark's former girlfriend, Palila, turns up with a child in tow that looks an awful lot like Mark. Palila, dying of cancer and refusing further treatment, is forced to make a decision about her daughter Nalu's fate before it's too late.
A honu that usually hangs out at Ma'alaea Harbor disappears, and everyone on the island is on high alert. Are the honu being disturbed by someone or something? Ana, one of the elders in Hāna, helps her friends and Palila's daughter Nalu accompany Palila on her last journey. Sienna becomes a bit too infatuated with Tom, the handsome lawyer she meets while hiking and soul searching, but to everyone's surprise, Tom becomes the helper no one expected.
Newsletter Sign Up
Receive the latest updates and excerpts on my series of new Cozy Mysteries!