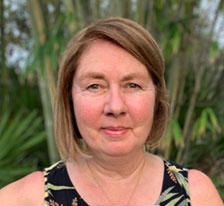 Birgitt Van Wormer
Writer.
After working in film production for over 20 years and translating many "chick flick" scripts, I decided that it's time to write about my own ideas. In my spare time, I enjoy obsessively collecting orchids and spending time with my husband, 2 teenage sons, our three crazy hounds and beloved cats. We have been traveling to Maui for the past 10+ years on a regular basis. It's heavenly and you can feel the Aloha spirit everywhere. When I'm not there, I miss it so much that I write about it to transport myself there.
For my new series of cozy mysteries, I decided to give myself the pen name Biggi Van Wormer, a nickname my Mother called me as a child.
Newsletter Sign Up
Receive the latest updates and excerpts on my series of new Cozy Mysteries!