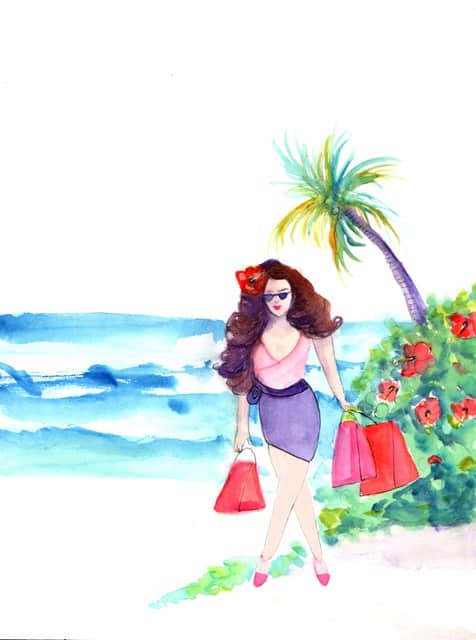 Island Concièrge
Kelly, a concièrge at a lovely and renowned boutique hotel on Little Orchid Island in the Florida Keys, has a one-night stand with her married boss who already has a history of sexual harassment accusations. She has been attracted to him but has avoided getting involved with the father of three and now realizes she can't work with him anymore. She quits her job and, since there's nothing else she's good at and she doesn't want to move back home to the Hudson Valley in upstate New York, she starts freelancing as an "Island Concièrge".
Kelly prepares birthday/honeymoon/anniversary surprises for arriving guests, shops for them, decorates hotel rooms, organizes day trips, rental cars and special meals/picnics, even business meetings. At first, she's agonizingly slow since nobody knows her, and she doesn't know if she'll survive. She loses her apartment that was a perk of her job at the hotel and has to find a new place to stay, which is tough on the Island. Finally, she answers an ad which leads her to an enchanted little house on the edge of the Latin neighborhood in town. She and her new Cuban roommate/landlord Gilda make a very odd couple, but Gilda, with her freelance orchid business, has a wide network of friends and associated and helps Kelly get the word out and the Island Concierge business starts booming. Gilda is a middle-aged crazy orchid and cat lady who runs the Little Orchid Island Garden Club and is a bit too motherly and overbearing, but with a heart
of gold. Sometimes Kelly doesn't know if she can take it but since Gilda only has Kelly's best interests at heart, they always end up hugging it out.
The neighborhood, a colorful Latin part of town, is loud and noisy and sometimes not what Kelly signed up for, but the neighbors, just like Gilda, are all kind and very helpful to their new gringa friend.
Kelly turns out to be a very good amateur sleuth and helps solve mysteries, with Gilda's help. Gilda knows everyone and everything that's happening in town and soon Kelly does as well. Sometimes Gilda gets involved/makes her aware of a crime … sometimes one of Kelly's
clients is involved.
Art theft. Rare orchids disappear. Runaway teenager. There's always something happening on Little Orchid Island: Single mom being kicked out of her rental house by her money-hungry landlord. Gilda's abused girlfriend is forced to escape her terrible life while her husband is at work and he swears he'll get her back, no matter what the cost …
The island and Kelly's job offer plenty of opportunities for romance – will Kelly find Mr. Right in one of her guests who keeps coming back or will she fall for Ricky, Gilda's charming musician son?
Read "Island Concierge", the new series of Cozy Mysteries and find out!
Newsletter Sign Up
Receive the latest updates and excerpts on my series of new Cozy Mysteries and the revealing of my new Pen Name!